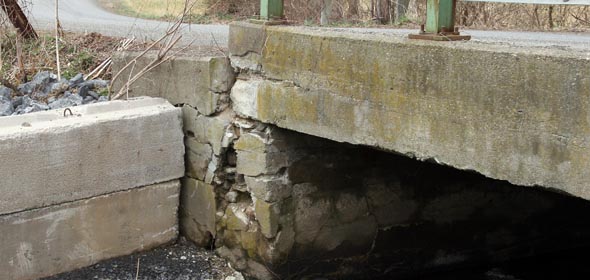 The Red Hook Town Board has authorized spending up to $350,000 to replace a crumbling bridge on Scism Road.
The money would be borrowed by the town in the form of low-interest bonds. According to the board, the estimated fix will cost nearly $30,000 higher than the original estimate to account for upfront engineering costs, borrowing expenses and a buffer for any unexpected cost overruns. The exact amount the town will need to spend will not be known until the project is put out for bids from construction firms.
The 70-year-old bridge, near the intersection of West Kerley Corners Road (County Rt. 78), shows signs of structural damage and has been shored up with concrete stabilizing blocks. The only other access to the area, which contains Mead Orchards, smaller farms and a few residences, is via an even-smaller, historic bridge.
Highway Superintendent Theresa Burke investigated the possibility of using a precast aluminum culvert system to save money on the bridge replacement. After visiting neighboring municipalities with aluminum culvert bridges, she determined that there would be a $16,000 savings.
But, according a N.Y. State Department of Transportation review, the lifespan of the aluminum bridge is at least 40 years shorter than for the concrete box culvert type Burke originally proposed. So she recommended that the board invest the extra money in the bridge now, to save in the long run.
"I don't think the town has anything to gain by waiting on this," Burke said. "The next big storm could take the whole bridge out."
The town board's unanimous vote of approval at its April 10 meeting is subject to a permissive referendum. That means residents who might disagree have until May 10 to circulate a petition and collect signatures totaling more than 5% of the Red Hook votes cast for governor in 2010, which would trigger a town-wide referendum on the proposed spending. There is no sign of opposition.
Facebook Comments