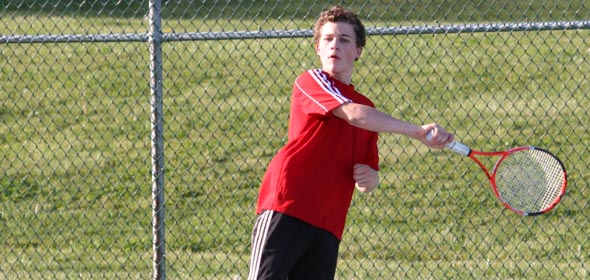 Red Hook's Varsity Tennis squad's mantra is "We hit it hard." It's even printed on their team t-shirts.
"We hit practice sessions hard, we hit matches hard, we hit the tennis balls hard," Red Hook varsity coach Tim Rogers said.
They're going to need to hit it harder than ever to stay competitive in 2012.
Red Hook has a chance to do damage against some very uneven Section 9 opponents this season. It's just a slimmer chance than they'd like. The Sectional opposition, according to Rogers, is a little pink in the middle.
"There are schools that have solid teams from first singles all the way down to second doubles, but there are other teams in the league who can't even field a complete lineup," said Rogers. Hopefully, that will make things a little easier for Red.
The team has graduated top players Marcus Jones and Jacky Cheng – Rogers says that the team will "miss their leadership." And, frankly, their age. Despite the presence of team captain and starting doubles player Brian Messmer, Red Hook is running freshmen in the first, second and third singles spots, and a second doubles team of two freshmen – while fielding a freshman captain, Joe Bryant, who was chosen by Rogers for his "strong work ethic and positive leadership qualities."
But don't write off Red Hook because of inexperience, though. "Our team is young," Rogers said. " But many of the players have been training all year round. I feel that we will surprise some teams in the league."
The team has talent – several of them have been training and working with Red Hook graduate and Rhinebeck Sports Club tennis trainer Shawn Holzmann – but they'll have to find a way to get around Section 9 death squad and area adversary FDR.
And youth isn't always an impediment; Kentucky won the college basketball championship this year with no fewer than three freshmen on the squad, and only dropped two games all year.
Facebook Comments