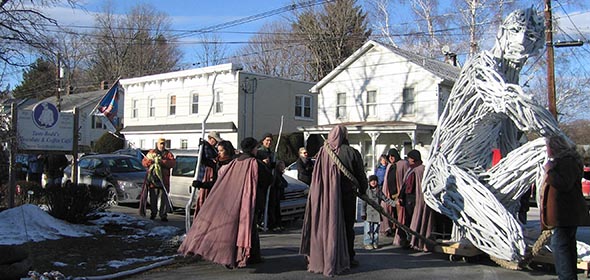 Red Hook's largest citizen made a grand entrance to the village on Sat., Jan. 26, and his sponsor-creator hopes he delivers a giant message.
The expressive, 12-foot, 400-pound driftwood sculpture named MAN, which now sits on the lawn at Taste Budd's Café, "walked" into the village in a parade led by artist Andres San Millán and a dedicated group of friends who donned dramatic cloaks for the occasion.
It took San Millan about two months to construct the sculpture's framework from driftwood washed up on the Hudson River shores and intertwined like human musculature.
"I am not a trained sculptor and have no knowledge of engineering," he said. "I asked a contractor about the sturdiness of the sculpture prior to the parade, and he said, 'You don't need to do anything else. It looks good.'"
He added, "I named the piece just MAN because I did not want it to be specific. Historically, the depiction of man, even by DaVinci, has been seen as conqueror, aggressive. From what I have read about Native Americans, they are a people who 'go along', and this is represented in driftwood, which 'goes along' with the flow of water. This MAN has to do with where we are now as a species. Our environment is threatened, and we have to think differently."
Andres led the parade from his home on Barrytown Road, shaking a driftwood percussion stick to set the pace and acting as traffic director, tirelessly waving on or halting vehicles. When a police car briefly halted the parade – certainly not for speeding — Andres ran back to confer with the officer, and after a minute sprinted forward, cheering everyone to continue on. The police car then gave MAN and company an escort, adding its flashing lights to the spectacle.
Facebook Comments