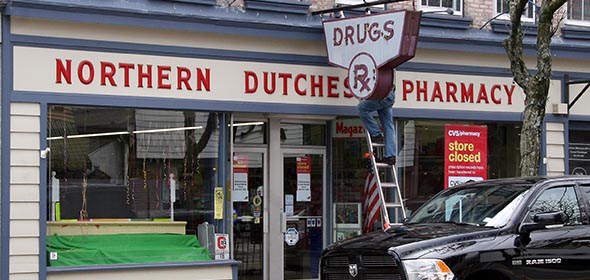 A local Rhinebeck landmark has been closed, to the surprise of many.
On April 16, the doors of Northern Dutchess Pharmacy, at 18 East Market St. were locked tight, and signs posted on the windows indicated the family-run business had been purchased by CVS, which owns a drugstore down the street.
The pharmacy has been in the Verven family since 1958 when Gus Verven started the business with his partner, Soloman Neustat. Gus' son, George Verven, and Walter Czajka have run the pharmacy since Gus passed away 13 years ago, but each of them has worked in the store for most of their careers.
Czajka said he had worked there for 30 years since an internship during pharmacy school. "It's the only pharmacy I've ever worked at," he added. Verven studied business in college, and only went to pharmacy school later in life, completing his degree shortly after his father died, according to George's sister, Dina Kaknis.
Both men will now work for as pharmacists for CVS at its Rhinebeck store, and their former employees are guaranteed jobs if they apply as part of the deal, according to Czaika.
The decision to close the store was a result of business beginning to suffer because of mandatory mail order prescriptions, Czaika said.
Although the state passed a law banning the practice in 2011, insurance companies could still make mail order prescriptions the default for patients with "maintenance" medications, such as for high cholesterol. Consumers technically have a choice, but it is up to patients to insist on getting prescriptions filled in stores rather than through the mail.
Czajka told The Observer that mail order hurt their business "probably to the tune of 70 percent. It's been gradual over the years. Two years ago, we were filling about 200 prescriptions a day; last week, we were doing like 100 a day."
Facebook Comments